.. this might be a very long post!
Sister Anne and I went back to the lands from which we hail and spent a couple of very interesting days near Stoke-on-Trent. I forgot my camera so only have mobile phone shots but really, I can't put it any better than Anne did in her post
here
.
I loved the Burleigh shop and tok ages deliberating over what to buy. I restrained myself knowing that we would be spending the whole day at Bridgewater.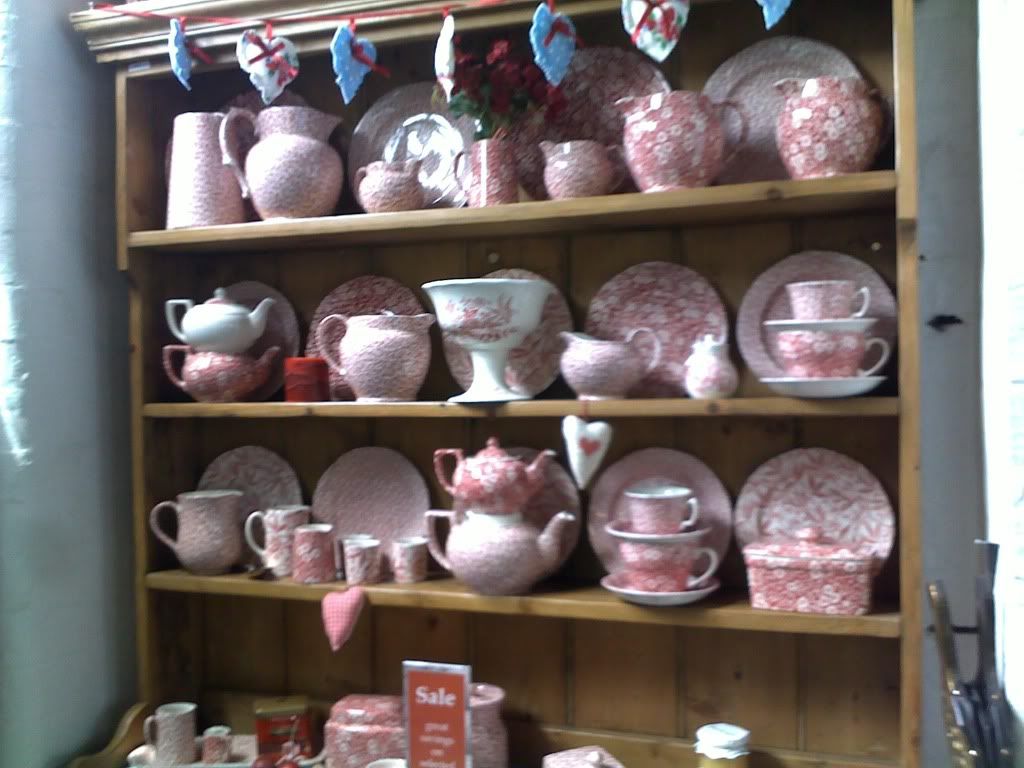 Oh to have a dresser like this.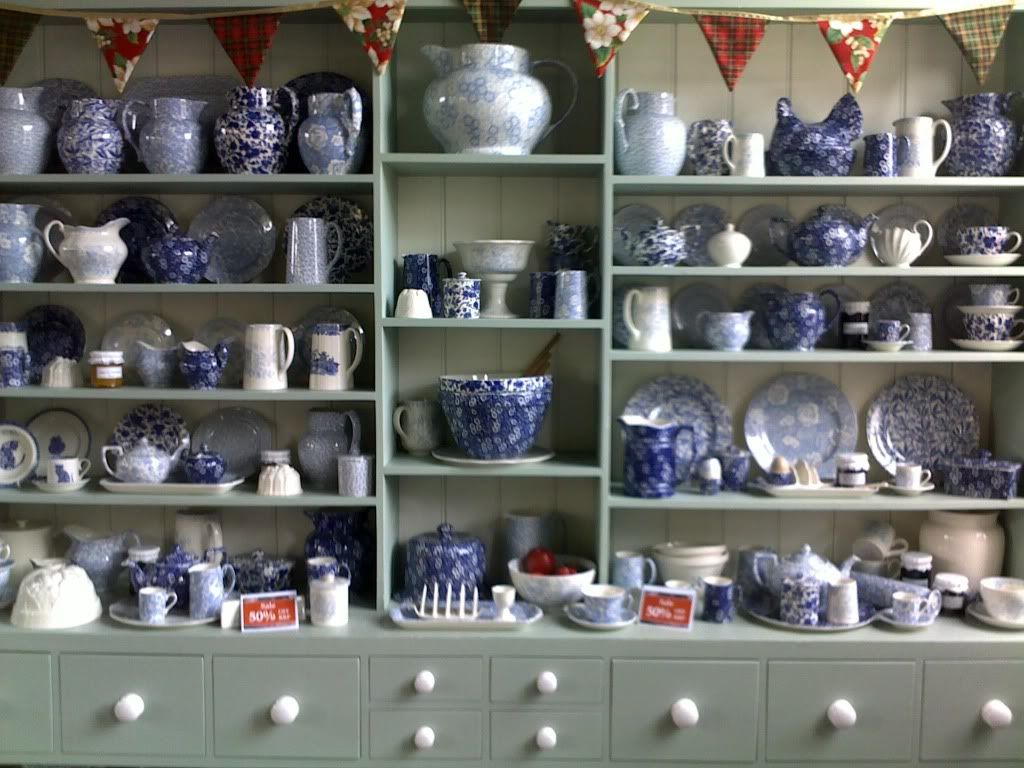 or this!
The building was lovely, retaining most of the original features
After our little sojourn to Burleigh we braved a trip into Hanley and did a good impression of Cinderella as we tried on posh lady shoes in M&S - the little toes were protesting and not at all happy about being squished into high heels
We went back to our hotel and had a budget version foot spa - Anne sat on the loo and me on a chair with our feet in the spa bath with a glass of wine in hand pretending we were at Ragdale Hall instead.
Despite our reservations and this warning sign we did enter the establishment and partook of a very good steak and bottle of house wine. A lovely and unexpected bonus.
Feeling in good spirits we wondered if we should round the evening off with some clubbing but decided against it - afterall, a girl can have too much of a good thing!
The day at Bridgewater was an absolute delight. I am absolutely convinced now that I am living the wrong life!
Although I am grateful that I don't have to spend my day working like the clappers to make half pint mugs
or fettling, dibbling or wiping said cups bottoms before they go to the kiln
I wouldn't mind spending my day sponge painting beautiful works of art though (you get to sit down to do this bit)
This is a bespoke range for Conran
The tour was really interesting and very impressive as they recycle pretty much everything, from the reject firings that are sent to make plasterboard to the heat from the kilns to warm the green houses on top of the factory roof where they grow tomatoes and such. I'm sure factory life is not that much fun but it certainly seemed like a nice place to work with very much a family feel.
I hope we'll go back again if only to spend some time in the cafe
heated by this gorgeous Aga
Lovely bits of memorabilia on the walls and home grown sweet peas in jugs on the tables
A very nice lunch followed and also a talk by 'the very nice Matthew Rice'
a very satisfied looking sis :)
I spent a frivolous amount of money but justify it by adding that since my youngest son is off to uni in September and my middle son is moving into a new place soon I can bequeath my slightly battered old china to them and replenish my empty nest with some beautiful things.... did that work, are you convinced? Well, William Morris must be right and who am I to argue with him? I'll post pictures of my purchases later as they deserve to be staged properly. I wasn't about to get them all out whilst the house was full of partying young folk.
We had a civilised family get together on the Thursday evening. The sun was shining, the wine was flowing and the garden was full of laughter - perfect.
Michael and Andrew
Liz and Ben

The next night wasn't quite as civilised although I am sure it started with good intentions. The day was spent shopping, preparing and cooking for an ever increasing number of guests
Ben the chef, Liz the apprentice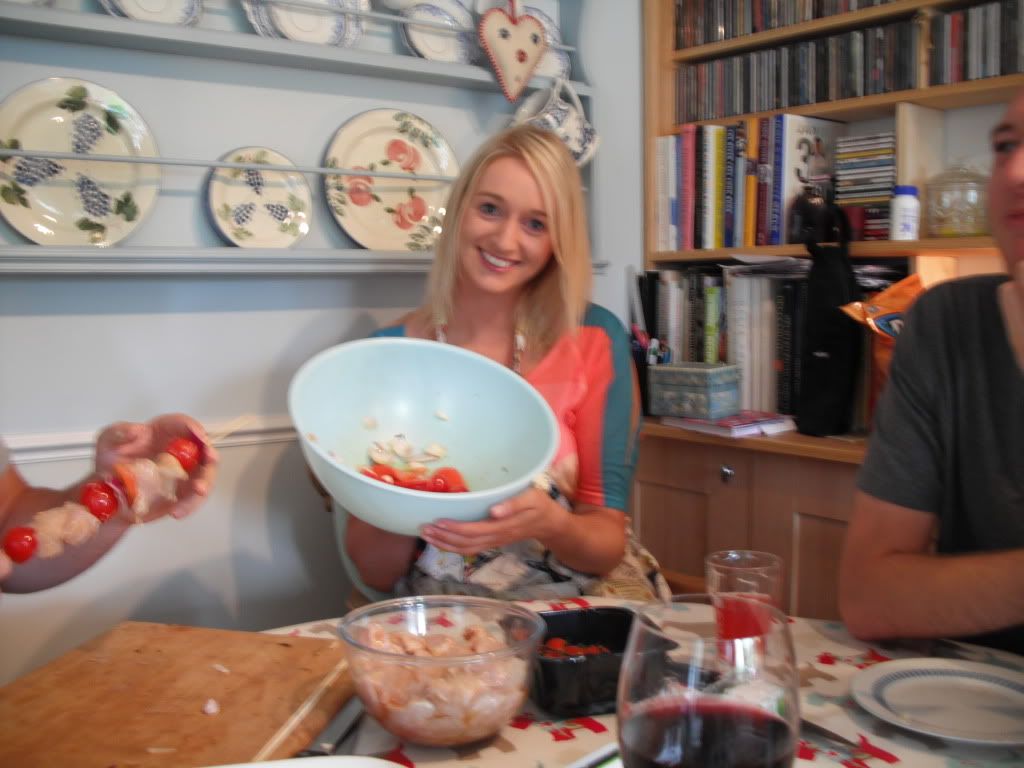 A rare event and one worthy of a photo - Liz in an apron, being domestic!
I didn't take a picture of my lovely little oasis of a summer house when it was full of sleeping drunken young men - five in total and then more in the lounge but all very grateful for scrambled eggs on toast and copious cups of tea the next morning. When your home has been voted the best place to have a hangover in it's hard to be annoyed at the carnage - ego be gone!
I think Fairy washing up liquid must have changed because believe you me, these hands are not soft! The fridge is bare, we were down to half a loo roll out of a pack of 12, no washing powder left and enough empty cans and bottles to warrant several trips to the bottle bank in the dark.
The house feels empty now with just Will and I. It's back to work tomorrow for a rest and maybe a chance to get back to the crafting before the travelling begins again. I was catching up with blogland with my feet most gratefully up last night when I saw
Amanda's post
and was inspired to get my act together and finish a few of my own on-going projects and then I saw
Lynne's post
about a hexagon quilt along so I'm now torn!
Hoping you are all enjoying the rain and the reprieve from gardening as I am!
Jules
x